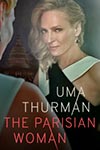 The Parisian Woman
at Hudson Theatre
Price from $ 161.50
Academy Award nominee Uma Thurman stars in The Parisian Woman, a new play written by Academy Award and Emmy Award nominee Beau Willimon (House of Cards) and directed by Tony Award winner Pam MacKinnon (Who's Afraid of Virginia Woolf?).

Highlights:
- Expeirence Uma Thurman live on stage
- Get the best seats available
- Enjoy a play filled with dark humor

The Parisian Woman
The Parisian Woman is set in Washington, D.C., where powerful friends are the only kind worth having, especially after the 2016 election.

At the center is Chloe (Uma Thurman), a socialite armed with charm and wit, coming to terms with politics, her past, her marriage and an uncertain future.

Dark humor and drama collide at this pivotal moment in Chloe's life, and in our nation's, when the truth isn't obvious and the stakes couldn't be higher.

How do I get my tickets?
Shortly after your booking is complete, you will receive an e-ticket by email. Please print out your ticket and bring it with you to the theatre.