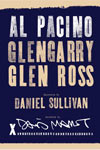 Glengarry Glen Ross
at Gerald Schoenfeld Theatre
Price from $ 185.00
Glengarry Glen Ross on Broadway in New York starring Al Pacino in the leading role. Tickets for Glengarry Glen Ross on Broadway in New York with Al Pacino here!

AL PACINO will return to Broadway to star in DAVID MAMET'S acclaimed Pulitzer Prize-winning drama GLENGARRY GLEN ROSS.

AL PACINO, who was nominated for an Oscar for portraying the role of Ricky Roma in the film version, will now take on the role of Shelly Levene.

The stakes are high at a fly by night Chicago real estate office: 1st prize-a new Cadillac, 2nd prize-a set of steak knives, 3rd prize-you're fired!!! GLENGARRY slices to the core of the American dream and exposes the depths people will go to stay on top of the game. Mamet himself worked in a real estate office in Chicago in 1969 setting up appointments for salesmen, and the play is influenced bu the cutthroat politics he encountered.

Richard "Ricky" Roma will be performed by Emmy Award winner and two-time Tony nominee BOBBY CANNAVALE. Tony Award-winning director, DANIEL SULLIVAN (The Columnist, The Merchant of Venice, Time Stands Still, Proof) will direct.

NB: When booking tickets for a musical in New York you will always be granted best seats available at the time of your booking. We have no influence on the exact seat and row number, as it is solely the theatre that can appoint the seats from best availability. Within 36 hours after you have received your first booking confirmation, your will receive an additional one showing your exact seats! These cannot be changed or altered in any way as they were the best available seats at the time of your booking!
Venue Info
Show Information
Booking from
2012-12-08
Duration:
1 hour, 45 minutes
Directions

Take the subway to 42nd St. station

View map